Stouffville Holiday Market>
Celebrate the holidays with our largest winter event of the season! Both days of the event will feature a local artisan vendor marketplace, magical lighting displays, food and beverage, horse drawn carriage rides, Santa Claus and other holiday characters and more. Live musical entertainment will happen throughout the weekend. This event provides an incredible opportunity to showcase Stouffville as a destination for family fun and seasonal charm giving both residents and visitors alike the chance to feel the magic of the holidays like never before. The Holiday Market has a little something for everyone join us and kick off the holiday season while shopping, dining and taking in all the sights and sounds that the weekend has to offer.
The Town's 'Stouffville Celebrates' feature event, the Stouffville Holiday Market is the recipient of two Festivals and Events Ontario (FEO) Awards!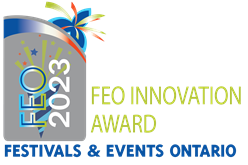 Location:>
Downtown Stouffville & Memorial Park
Date & time:>
November 24, 5 - 9 p.m.
November 25, 12 - 9 p.m.
Become a sponsor:>
events@townofws.ca
Notice of filming and photography: When you and any minor children attending an event with you, attend an event, you enter an area where photography, audio, and video recording may occur. By entering the event premises, you consent to such recording media and its release, publication, exhibition, or reproduction.